Table of Contents
Tutorial: BarMagnet for iOS
To administrate your Xirvik seedbox from your iPhone you may use an app called BarMagnet.
Installing BarMagnet
Unfortunately, BarMagnet is not available on the Apple App Store, so you will have to sideload it. This page will show you how to do that with an application called Cydia Impactor, which works with Windows, Linux, and macOS.
Please note that you may have to reinstall the app every 7 days due to limitations with iOS code signing. However, thanks to the QR code system, setting up the app each time is very easy.
Also, if you have a jailbroken iPhone, you may be able to use a jailbreak tweak to install the IPA from https://github.com/Qata/BarMagnet/releases, but this has not been tested.
Installation using Cydia Impactor
If your version of the IPA file is 1.9.4, please follow the instructions at the bottom of this section

Plug in your iPhone to your computer's USB port

Open Impactor

In the menu at the top, click Device→Install Package, and select barmagnet.ipa if you followed the 1.9.4 instructions below, or otherwise the IPA you downloaded from GitHub.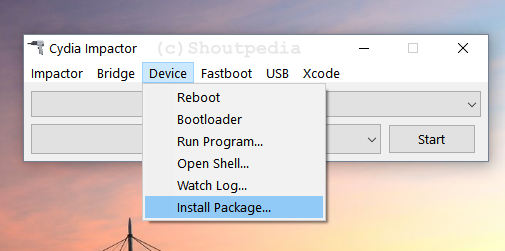 (Windows screenshot source: shoutpedia.com)
Enter your Apple ID email and password when you are prompted

On your iPhone go to Settings→General→Profiles & Device Management and click your email, then click Trust: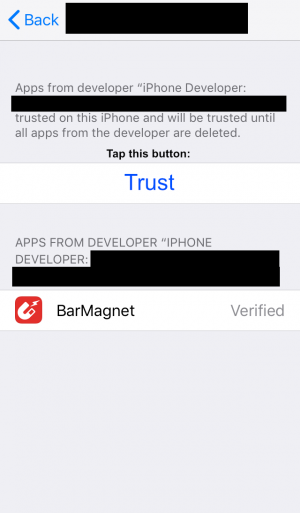 You can disconnect your iPhone and close Impactor

Now you can go to your home screen and open BarMagnet
If the version is 1.9.4, then there is a glitch in the file, which you can fix by doing this:
Rename the file to end in ZIP instead of IPA

Extract the file

If the extracted folder is named "payload" (lowercase p), then rename it to "Payload" (uppercase P)

Right-click the Payload folder and click "send to → compressed (zipped) folder" (Windows) or "compress" (macOS)

Rename the newly created zip file to barmagnet.ipa. This is what you will install.
Setting up BarMagnet
Thankfully, setting up BarMagnet is a lot easier than installing it.
Tap the settings gear icon in the bottom-right, which takes you to the "Torrent Clients" screen

Tap "Edit", then tap the green + icon to add a torrent client

Select Xirvik rTorrent

Tap "Scan QR code", and scan the QR code from the "Mobile" section of your Seedbox Dashboard

Name the seedbox. Your screen should look like this: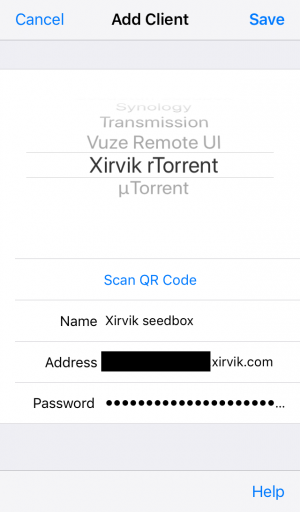 Using BarMagnet
BarMagnet is a very simple app to use once it has been installed. In the main screen of the app, you can see a list of your currently active torrents, with some important information: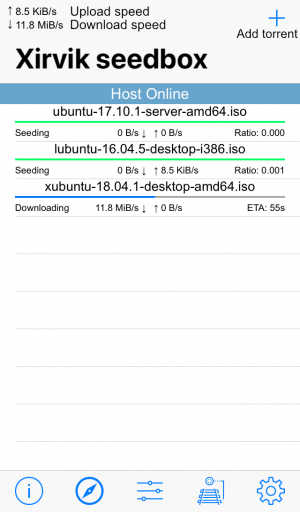 If you tap on a torrent, you can see much more detailed information about it. Also, there are buttons to pause/resume the torrent, and remove it: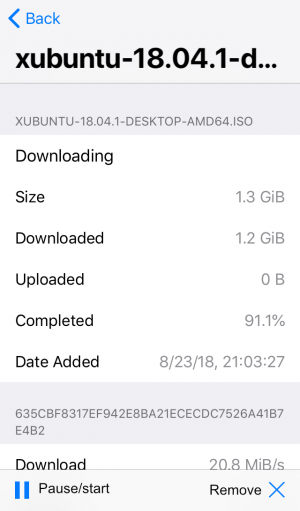 You can add a torrent by tapping the + icon in the top-right. Or, conveniently, you can tap on a magnet link in Safari, and it will be added.
Please note that if the torrents list appears blank, you may just have to wait 10-15 seconds for BarMagnet to load the list from the server.